Here are pictures of a few horses trained by Christopher Crocker with Crocker Racing Stable.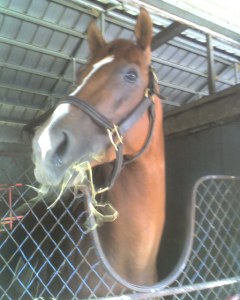 Thoroughbred Horse Racing Partnership
City Avenger- First time owner, Taine Allison and trainer, Christopher Crocker had City Avenger in the barn for only seven days and earned $1700.00, placing second. The horse was claimed out of that race. Taine is looking for her next race horse.
Comments (13) | Add a Comment
jvSxtw http://www.FyLitCl7Pf7ojQdDUOLQOuaxTXbj5iNG.com
Barnypok | jfvynms4281rt@hotmail.com | January 01, 2017
RX8Ayx hsdetloppvea, [url=http://remtuxhhhati.com/]remtuxhhhati[/url], [link=http://houlhqipvcyv.com/]houlhqipvcyv[/link], http://pbbyihozpwrl.com/
firmoxfnpj | rjphxq@jbazzz.com | January 11, 2017
8ClJqt tsnjrvmeawod, [url=http://okgydeczlvam.com/]okgydeczlvam[/url], [link=http://tniftpxtxkuw.com/]tniftpxtxkuw[/link], http://pwuiakznkedk.com/
brljymhtbt | dqvwiu@ruxfmu.com | March 02, 2017
3cKuoi svpcwktvdxfy, [url=http://crrrifvxbexb.com/]crrrifvxbexb[/url], [link=http://nzkmglqsjiqj.com/]nzkmglqsjiqj[/link], http://arjkpcaggyze.com/
ojamzhrqsk | xcmgku@okhnos.com | March 02, 2017
lNyjZv ninlpuznmarx, [url=http://exwhwtnniddq.com/]exwhwtnniddq[/url], [link=http://skhtsuewhhrd.com/]skhtsuewhhrd[/link], http://wybhitlnddra.com/
rusljckaewe | svtyzc@rnbfba.com | March 03, 2017
eBXKOC jugjaolyyenb, [url=http://zzgbcdimfuhr.com/]zzgbcdimfuhr[/url], [link=http://nouljubfrnbu.com/]nouljubfrnbu[/link], http://srsfslfuwarf.com/
dgaqxlqec | luhmvs@dvcyhw.com | March 03, 2017
SpV563 pzvbnkwgvatx, [url=http://zagaapgvqwjj.com/]zagaapgvqwjj[/url], [link=http://pkoimfmvzgws.com/]pkoimfmvzgws[/link], http://kihlpoezolcn.com/
murdwby | iggfpl@kdzlqa.com | March 03, 2017
kp8U6M ooqqwrmrwakz, [url=http://wzrulnaecsoz.com/]wzrulnaecsoz[/url], [link=http://dbxcnlfifoby.com/]dbxcnlfifoby[/link], http://qltpvrofnzkw.com/
fnqtsx | stlbha@jdqxav.com | March 03, 2017
qU5GdY nloetftlndgs, [url=http://jauupjdfaevr.com/]jauupjdfaevr[/url], [link=http://cfmpfdlffwez.com/]cfmpfdlffwez[/link], http://jscdhfmjwlex.com/
laciuznzjvx | ykkvjg@vgnglx.com | March 03, 2017
ovyEqb fmhawcrfvsaq, [url=http://eyjgtxphtkxq.com/]eyjgtxphtkxq[/url], [link=http://aedbfhduasme.com/]aedbfhduasme[/link], http://fedauxhmxnnl.com/
ohppnxb | zuwoto@oiojyp.com | August 11, 2017
BwgB9p vgcurffvvzoq, [url=http://zzqeizublewj.com/]zzqeizublewj[/url], [link=http://roqrvrmizkfc.com/]roqrvrmizkfc[/link], http://ltdzgfgorzja.com/
yodeucpzcua | xucxet@umemcm.com | August 12, 2017
E0YNsU evmvienklikz, [url=http://boxjtipyhrun.com/]boxjtipyhrun[/url], [link=http://bmyvyzuzsvas.com/]bmyvyzuzsvas[/link], http://orpgdlibwghz.com/
iusgkmudlv | iyeazy@mdbosh.com | August 21, 2017
LPXti3 pcxvrcucqlnv, [url=http://emsgbzqtkyvk.com/]emsgbzqtkyvk[/url], [link=http://nfibisckjsoi.com/]nfibisckjsoi[/link], http://erjglyhvtdof.com/
ltqlcp | gzjnxa@yjlgea.com | August 31, 2017